LOCATION
Lying between latitude 8° 4´ N to 37°6´ N and from longitude 68°7´E to 97° 25´ E, the Country is divided into almost equal parts by the Tropic of Cancer (passing from Jabalpur in MP).
The southernmost point in Indian Territory, (in Great Nicobar Island) is the Indira Point (6°45´), while Kanyakumari, also known as Cape Comorin, is the southernmost point of Indian Mainland. The country thus lies wholly in the northern and eastern hemispheres.
The 82°30´ E longitude is taken as the standard Time Meridian of India, as it passes through the middle of India (from Naini, near Allahabad).
AREA AND BOUNDARIES
India stretches 3,214 km from N to S & 2,933 km from E to W.
Area: 32, 87, 263 sq. km Accounts for 2.4% of the total world area and 16% of the population.
Mainland India has a coastline of 6,100 km. Including the Lakshadweep and Andaman and Nicobar, the coastline measures about 7516.6 km.
In India, of the total land mass:
Plains: 43.3 %, Plateaus: 27.7%, Hills:18.6%, Mountains: 10.7%.
In the South, on the eastern side, The Gulf 0f Mannar and the Palk Strait separate India from Sri Lanka.
Total land neighbours: 7 (Pakistan, Afghanistan, China, Nepal, Bhutan, Bangladesh and Myanmar).
India's Islands include the Andaman & Nicobar Islands in Bay of Bengal & Lakshadweep, Minicoy & Amindive Islands in the Arabian Sea.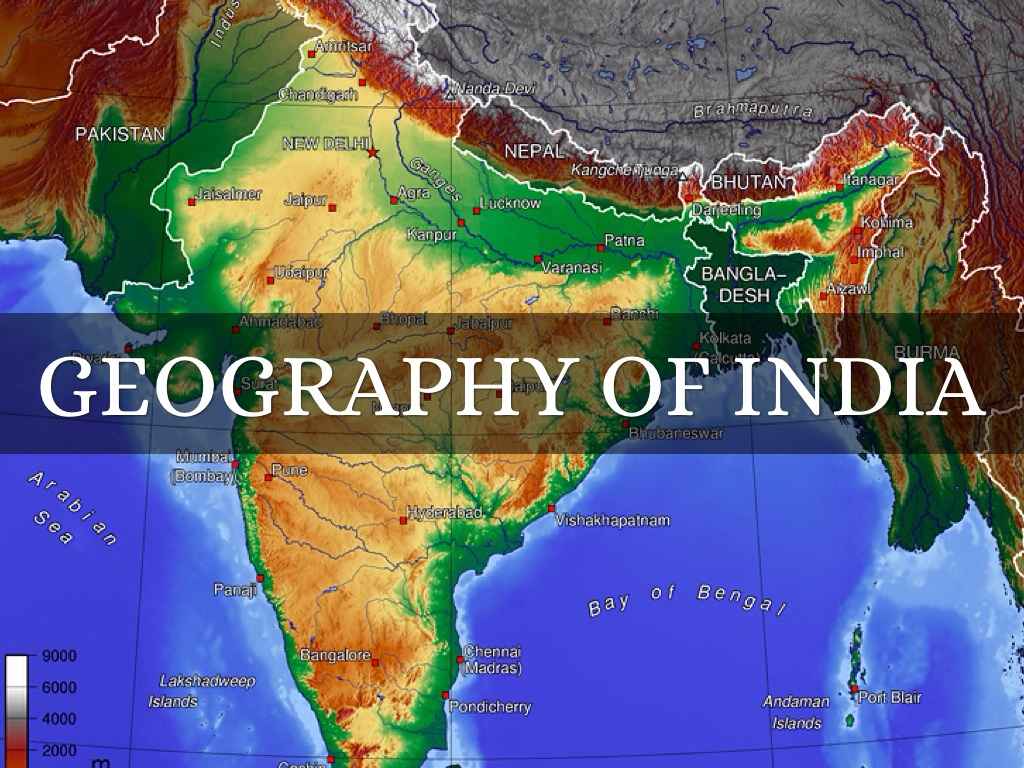 FACTS ABOUT POSITION OF STATES OF INDIA
Uttar Pradesh borders maximum number of States- 8 (Eight): Uttarakhand, Himachal Pradesh, Haryana, Rajasthan, MP, Chhattisgarh, Jharkhand and Bihar.
Tropic of Cancer passes through 8 (Eight) States: Gujarat, Rajasthan, MP, Chhattisgarh, Jharkhand, West Bengal, Tripura and Mizoram.
Indian Standard Meridian (82°30´ E meridian) passes through UP, MP, Chhattisgarh, Odisha and Andhra Pradesh.
INDIA IN TABLES
INDIAN STATES ON INTERNATIONAL BOUNDARIES
Bordering Pakistan
Jammu & Kashmir, Punjab, Rajasthan, Gujarat.
Bordering China
Jammu & Kashmir, Himachal Pradesh, Uttararakhand, Sikkim, Arunachal Pradesh.
Bordering Nepal
Bihar, Uttarakhand, UP, Sikkim, West Bengal.
Bordering Bangladesh
West Bengal, Mizoram, Meghalaya, Tripura, Asom.
Bordering Bhutan
West Bengal, Sikkim, Arunachal Pradesh, Asom.
Bordering Myanmar
Arunachal Pradesh, Nagaland, Manipur, Mizoram.
Bordering Afghanistan
Jammu & Kashmir (Pakistan-occupied area).
IMPORTANT RIVERS OF INDIA
| | | | |
| --- | --- | --- | --- |
| Name | Origin from | Falls into | Length (km.) |
| Ganges | Combined sources | Bay of Bengal | 2525 |
| Satluj | Mansarovar Rakas Lakes | Chenab | 1050 |
| Indus | Near Mansarovar lake | Arabian Sea | 2880 |
| Ravi | Kullu Hills near Rohtang Pass | Chenab | 720 |
| Beas | Near Rohtang pass | Satluj | 470 |
| Jhelum | Verinag in Kashmir | Chenab | 725 |
| Yamuna | Yamunotri | Ganga | 1375 |
| Chambal | M.P. | Yamuna | 1050 |
| Ghagra | Matsatung Glaciers | Ganga | 1080 |
| Kosi | Near Gosain Dham Peak | Ganga | 730 |
| Betwa | Vindhyanchal | Yamuna | 480 |
| Son | Amarkantak | Ganga | 780 |
| Brahmaputra | Near Mansarovar Lake | Bay of Bengal | 2900 |
| Narmada | Amarkantak | Gulf of Khambat | 1057 |
| Tapti | Betul Distt. in M.P. | Gulf of Khambat | 724 |
| Mahanadi | Raipur Distt. in Chhattisgarh | Bay of Bengal | 858 |
| Luni | Aravallis | Rann of Kutch | 450 |
| Ghaggar | Himalayas | Near Fatehabad | 494 |
| Sabarmati | Aravallis | Gulf of Khambat | 416 |
| Krishna | Western Ghats | Bay of Bengal | 1327 |
| Godavari | Nasik Distt. in Maharashtra | Bay of Bengal | 1465 |
| Cauvery | Brahmagir Range of Western Ghats | Bay of Bengal | 805 |
| Tungabhadra | Western Ghats | Krishna River | 640 |
MAJOR PORTS IN INDIA (TOTAL 13)
| | |
| --- | --- |
| Western Coast | Eastern Coast |
| Kandla (child of partition) | Kolkata-Haldia (riverine port) |
| Mumbai (busiest and biggest) | Paradip (exports raw iron to Japan) |
| Jawahar Lal Nehru (fastest growing) | Vishakhapatnam (deepest port) |
| Marmugao (naval base also) | Chennai (oldest and artificial) |
| Mangalore (exports Kudremukh iron-ore) | Ennore (most modern-in private hands) |
| Cochin (natural harbour) | Tuticorin (southernmost) |
| | Port Blair (strategically important) |
NATIONAL PARKS AND WILD LIFE SANCTUARIES
| | |
| --- | --- |
| Gir Forests | Home of Asiatic lion. In Gujarat |
| Kaziranga Sanctuary | One horned Rhino. In Asom |
| Manas Sanctuary | One horned Rhino. In Asom |
| Chandraprabha Sanctuary | II home of Asiatic lion. In UP |
| Ghana or Keoladeo Bird Sanctuary | In Bharatpur, Rajasthan |
| Dachigam Sanctuary | For Hangul, in Kashmir |
| Corbett National Park | In Uttarakhand. Home of Tiger |
| Kanha National Park | In MP |
| Shiv Puri National Park | In MP |
| Hazaribagh National Park | In Jharkhand |
| Periyar Game Sanctuary | In Kerala |
| Dudhwa National Park | In UP |
| Vedanthangal Bird Sanctuary | In Tamil Nadu |
| Nokrek National Park | In Meghalaya |
| Sariska Sanctuary | In Rajasthan |
| Ranthambhor National Park | In Rajasthan |
| Namdapha National Park | In Arunachal Pradesh |
| Keibul Lamjo Floating National Park | In Manipur |
| Palamau Tiger Project | In Bihar |
| Similipal National Park | In Odisha |
| Ranganthittoo Bird Sanctuary | In Mysore, Karnataka |
| Nagarhole National Park | In Karnataka |
| Mudumalai Sanctuary | In Tamil Nadu |
| Balpakram Sanctuary | In Meghalaya |
| Bandipur Sanctuary | Along the Karnataka- Tamil Nadu border |
| Jaldapara Sanctuary | In West Bengal. For Rhinos |
| Wild Ass Sanctuary | In Rann of Kutch, Gujarat. For wild Ass |
IMPORTANT CROPS OF INDIA
| | |
| --- | --- |
| Rice | West Bengal, Punjab, UP |
| wheat | Up, Punjab, Haryana |
| Maize | Madhya Pradesh, Andhra Pradesh, Karnataka |
| Bajra | Rajasthan, Gujarat, Maharashtra |
| Jowar | Maharashtra, Karnataka, MP,AP |
| TOTAL PULSES | UP, MP, Punjab |
| TOTAL FOODGRAINS | UP, Punjab, West Bengal |
| Groundnut | Gujarat, Tamil Nadu, Andhra Pradesh |
| Rapeseed and Mustard | Rajasthan, UP, Haryana |
| Soyabean | Madhya Pradesh, Maharashtra, Rajasthan |
| Sunflower | Karnataka, Andhra Pradesh, Maharashtra |
| TOTAL OIL SEEDS | MP, Maharashtra, Rajasthan |
| Sugarcane | UP, Maharashtra, Karnataka |
| Cotton | Maharashtra, Gujarat, Andhra Pradesh |
| Jute and Mesta | West Bengal, Bihar, Asom |
| Tea | Asom, West Bengal, Himachal Pradesh |
| Coffee | Karnataka, Kerala, Tamil Nadu |
| Rubber | Kerala, Tamil Nadu, Karnataka |
| Silk | Karnataka, Jammu & Kashmir, Andhra Pradesh, in India all 4 varieties of silk are available: Mulberry, tussar, eri and muga. Mulberry is main variety, while tussar is mainly found in Bihar. |
| Tobacco | Gujarat, Andhra Pradesh, Karnataka |
IMPORTANT RIVER VALLEY PROJECTS
| | |
| --- | --- |
| Bhakra Nangal Project | On Satluj in Punjab. Highest in India. Ht 226 m. Reservoir is called Gobind Sagar Lake. |
| Mandi Project | On Beas in HP. |
| Chambal Valley Project | On Chambal in MP &Rajasthan. 3 Dams are there: Gandhi Sagar dam, Rana Pratap Sagar dam and Jawahar Sagar Dam. |
| Damodar Valley Project | On Damodar in Bihar. Based on Tennessee Valley Project, USA. |
| Hirakud Project | On Mahanadi in Odisha. World's Longest Dam: 4801 m. |
| Rihand Project | On Son in Mirzapur. Reservoir is called Govind Vallabh Pant reservoir. |
| Kosi Project | On Kosi in N. Bihar. |
| Mayurkashi Project | Om Mayurkashi in West Bengal. |
| Kakrapara Project | On Tapti in Gujarat. |
| Nizamsagar Project | On Manjra in Telangana. |
| Nagarjuna Sagar Project | On Krishna in Telangana and AP. |
| Tungabhadra Project | On Tungabhadra in AP& Karnataka |
| Shivasamudram Project | On Cauvery in Karnataka. It is the oldest river valley project in India. |
| Tata Hydel Scheme | On Bhima in Maharashtra. |
| Sharavathi Hydel Project | On Jog falls in Karnataka |
| Kundah & Periyar Project | In Tamil Nadu. |
| Farakka Project | On Ganga in WB. Apart from power and irrigation it helps to remove silt for easy navigation. |
| Ukai Project | On Tapti in Gujarat. |
| Mahi Project | On Mahi in Gujarat. |
| Salal Project | On Chenab in J&K. |
| Mata Tila Multipurpose Project | On Betwa in UP & MP. |
| Thein Project | On Ravi in Punjab. |
| Pong Dam | On Beas in Punjab. |
| Tehri Project | On Bhagirthi in Uttarakhand. |
| Sardar Sarovar Project | On Narmada in Gujarat & MP. |