Anindya Kanan, a 1-Year student in CLATapult for the 2016-17 session, got a score of 144.5 out of 196 and became a Topper in CLAT 2016, with the All India Rank of 15 and a West Bengal State Rank 1.
This is the second year in a row that a 1 year classroom student from CLATapult has topped in West Bengal. Last year, with AIR 9, Sreeja Pal was the West Bengal topper. Read her Interview HERE.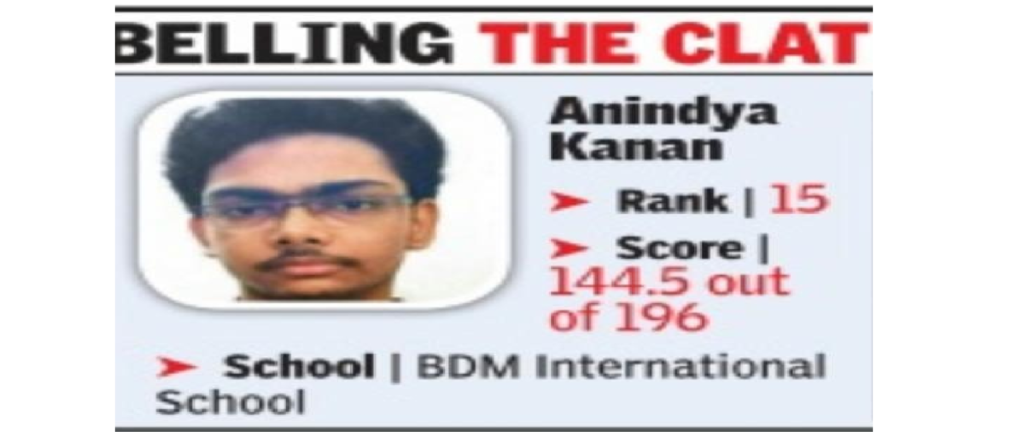 In this interview, he talks about his journey from his decision to drop a year to getting the outstanding news of being a topper in CLAT 2017.
What prompted you to choose law?
Powerful arguments in courtrooms by lawyers in Hollywood flicks and TV shows appealed to me since my childhood and I always had an interest in debating which helped me choose law over engineering for which I had prepared previously. Apart from the lucrative prospects and social reputation a career in law also provides one with an opportunity to give back to society and help build a more fair and just India.
When did you start preparing for the exam? Take us through how you prepared for each subject in CLAT and AILET.
I started preparing for CLAT right after my 12th boards .
I started by solving past year papers to gauge the level of my prep and single out the parts which needed extra attention. I solved CLATapult study materials as soon as got my hands on them which provided a solid foundation for latter prep and helped me get my basics right. Apart from these I did Word power made easy by Norman Lewis and Arihant's Reasoning Book for advanced practice and Competition in Focus for current affairs and, obviously, The Hindu.
You had taken a year off before CLAT/AILET 2017. How did you go about that year in between?
I had to take a drop as I couldn't get an NLU in my first attempt . After watching the first three months fly past my eyes I started giving mocks at regular intervals and this momentum helped me through my study materials. Mentally, it was very taxing as you tend to get isolated which is why it is important to keep in touch with your friends, family. Also, it is important to have a few stress-busters in your routine whether it be music, exercise, yoga or whatever interests you.
During the last month support from my teachers at CLATapult really helped keep my morale up and helped me sail through that taxing period before the exams
Coming to your incredible CLAT and AILET scores – what was your initial reaction to it?
I was a little underwhelmed at first as the cutoff for last year went high in both CLAT and AILET but the announcement of results helped put that nervousness to rest. Also, the faculties at the clat coaching center in Kolkata made me confident that I have all the potential to be a topper.
How did CLATapult contribute to this? 
CLATapult provided just the right competitive ambience for me to challenge myself and nudge me towards my goal. Anzar sir helped me lift my spirits whenever I felt down and out and encouraged me to give my best. All the teachers were really approachable and helped me sail through the syllabus with ease while still keeping the classes engaging. I would also like to thank Anjanesh Sir for the chocolates, Shresth sir for helping me with my strategy for the paper and all teachers for their dedication and hard work for without your support and guidance I wouldn't have achieved this success.
Which skills and abilities do you consider important to do well in CLAT and AILET?
The two most important skills to have for CLAT as well as AILET is reading speed and a cool temperament. Reading speed as CLAT gives you only 36 secs for each question and hence you need to cut down on time in reading the question .Temperament is equally important as you have to keep your head cool even when you are not able to solve a particular question and not give up on your paper because of a bad phase.
Your strengths and weaknesses – how did you deal with them?
Well, one of my biggest strengths is that I love reading whether it be reading a newspaper or articles online. I even got addicted to the CLATapult blog during my preparation​. Also, Mathematics was one of my strengths so no blood lost there too. But GK was one of my weaknesses as was consistency. In both these areas, Anzar sir was a great guide for me who constantly made me believe in myself and helped me keep myself on the right track of preparation .
What do you think might have been the 'special ingredients' in your strategy that put your score so high up the scale?
I think my belief in myself and being level-headed during the exams  were the special ingredients that helped my score and rank
Mock tests – useful or over-hyped? Which ones did you take and how did you go about them?
To any CLAT aspirant, mock tests form the backbone of the preparation as was in my case. As these mocks equip with the necessary wherewithal to face any possible scenario, one can but only perform with confidence and come out with flying colors.
Any words of advice for the aspirants?
"Believe you can and you're halfway there" – Theodore Roosevelt
This belief really helps kick-start your mission for anything you want. If you believe with all your heart that you can do something, only then  you put all your effort into it .
Get a schedule to follow. If it doesn't work then change it. Try to get as much consistency with your preparation as you can. You can also join the clat crash course of Clatapult. Never ignore the mocks and analyse them, else, you will keep repeating the same mistakes. Most importantly, never lose your heart, try for the best but be content with what you achieve and never take it too seriously. Spare time to dabble a little in your interests.
Keep in touch with your friends. Follow a routine and you will sail through to endless opportunities and an exciting future. If you want any professional guidance then join the classes of Clatapult. You can also join Clatapult's online coaching classes.