With 40000 aspirants sitting for it each year and fighting it out for the coveted few hundred seats, the Common Law Admission Test has become a tough nut to crack in the recent years. But still for any smart aspirant with an English-medium (CBSE or ICSE) upbringing, it will seem penetrable right after the first glance of the curriculum of CLAT.
Subjects like Mathematics and General Knowledge, which constitute a mammoth 35 % of the entire paper, are taken straight out of class 9th and 10th textbooks. Any student with a reasonably good grasp over Mathematics in Class 9th & 10th will know the ways to peddle through these two subjects in CLAT.
Ease in these two subjects inevitably leads to attaining a level of confidence to master the subjects like Legal Reasoning & Logical Reasoning, which are nothing beyond the technical mash-up of being  sensible (logical or clear-headed) and having a good comprehension skill in English.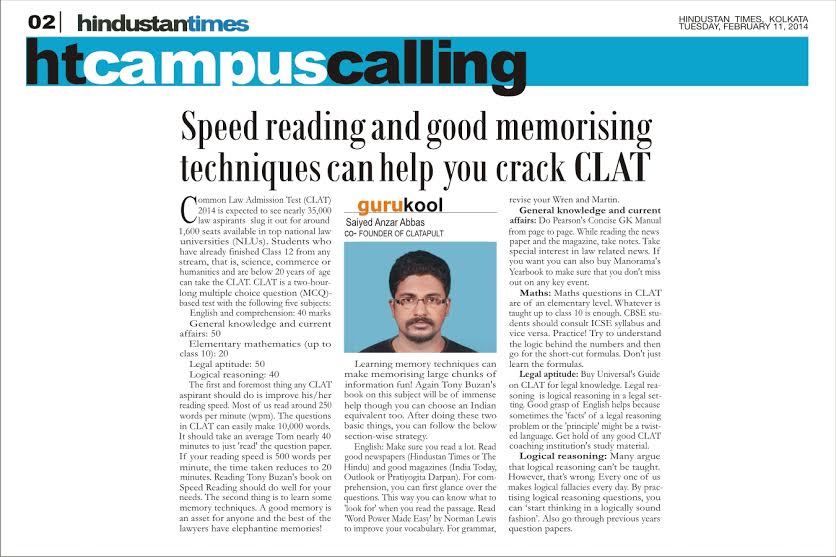 Again, General Knowledge seems doable considering it is a labour-oriented subject where all the aspirant needs to do is to brush up her basic General Knowledge, most of which she had done in School (Science, History, Geography, Polity, etc.) and follow up the year's Current Affairs (by reading a newspaper and a good Current Affairs magazine).
But easier said than Done!
Right from the very outset, you, an aspirant, will have the scope to feel complacent, considering how easy these five subjects actually are. 'Isn't this exam no way comparable to the difficulty level of exams like the IIT, CBSE-PMT, AIEE et. al ?' will be their way to console oneself to cover up their excuse to not put in the effort.
But once an aspirant starts pursuing CLAT seriously, she will realise the flip-side, as against all the above-mentioned greenery. The only factor that comes between and ruins their dream-ride of not being hard-working enough and still expecting to do well in CLAT is the Time Management aspect of the exam.
There are 200 questions in the paper. The questions are unevenly divided among five subjects. The questions come from subjects which are seemingly easy. But the only conundrum to be faced by the aspirants is to attempt them all in 120 minutes.
So, how does an aspirant hone this art of managing to attempt all 200 questions in 120 minutes, with accuracy?
CLAT is an aptitude test conceptualized in a manner whereby your mental faculties vis-a-vis your analytical and time management abilities are tested. So, honing the skill to manage your time well is gravely under-rated and constitutes not less than 40 % of the preparatory process.
How does a student deal with this dilemma called Time Management in CLAT?
At the outset, let us clarify that there is no single method to follow in order to excel in CLAT. In fact, there could be 40,000 uniquely different ways for the 40,000 people sitting for this exam. The bottom-line is to finish the paper within two hours, with maximum accuracy.
First thing, you will need to make sure that you have a time-line in your head, from the time you start preparing for CLAT till you sit for the exam in May.
Your first few months (4-5 months) must be spent in understanding the concepts, while simultaneously, practicing from the work-sheets, study materials and, most importantly, the past years' papers that you have at your disposal.
Solving all the CLAT papers and the papers before CLAT (CLAT was instituted in 2008. Before that, there used to individual exams of every NLU) is helpful because that will give you a fair idea about what you should be prepared for when you sit for the exam eventually, in May. The vast diversity in the difficulty levels of papers and the quality of questions will ready your head like a radar which could then take both a favourable as well as an adverse paper.
Once done with the curriculum, you will have to start taking the mocks, simultaneously with solving questions from as many sources as possible. Nowadays, with the advent of so many CLAT Coaching institutes, it is not difficult to lay your hands upon study materials, along with so much of online resources available, both free as well as paid ones.
Now, how you take these mocks in these months leading up to CLAT is crucial and will decide how you fare on the D-Day itself. As stated somewhere up in this article, every aspirant has her unique strengths and weaknesses, tastes and distastes as far as CLAT as a whole is concerned.
A student might not like History or is very averse to Syllogisms in Logical Reasoning or is absolutely antagonised by Mathematics. While preparing, the aspirant needs to let go of all of these fears and give equal importance to every section. Ignoring a section like Mathematics, which carries only 20 marks, could spell a disaster in CLAT and make a difference of maybe 500 spots on the rank list, enough to push you down to a CNLU or an NLUO from an NLS or a NALSAR or an NUJS.
Having said that, when you sit for the mocks, you will still be inclined towards attempting the sections first that you have always preferred over the rest. And taking your strong subjects first will help you getting in the flow and will be a morale booster too.
Irrespective of that and the order in which you take the paper, you will still have to divide your time wisely among the five subjects. We suggest you to follow the following pattern:
General Knowledge – 10-12 Minutes
English – 25 Minutes
Legal Reasoning – 35 Minutes
Logical Reasoning – 30 Minutes
Mathematics – 18-20 Minutes
Having stated the above-mentioned pattern, we strongly recommend you to take the first few mocks (Maybe a 5 out of the entire bunch of mocks you intend to take) by ignoring the apprehension of losing your marks based on negative marking. This is meant to give you the scope to understand the exact amount of time you end up spending on each section.
At the start, scores are immaterial unless you figure out the time you take for each section. It makes it easy for you to add and subtract minutes to the pattern mentioned above based on your own strengths and weaknesses. For instance, you might want to add 5 more minutes to the Mathematics section and reduce 5 from English.
This exercise will make you realize the number of questions you can reach without being hassled by the ghost of negative marking.
Additionally, in the same 5 mocks, experiment with the order in which you go, like whether English should come before LR or GK. Change it every time to see what takes the least amount of time and exertion. There is a mood attached to each section. Like if you start with Maths and then do Logical Reasoning, you have exerted your mind too much at the start to lose energy. Go in the Easy to Tough way.
You need to remember that the Legal Reasoning section acts as a tie-breaker in case of a tie and must be attempted when you are in the best frame of your mind.
It goes without saying that you must review each mock as seriously as you sat through it. Reviewing the mock is indispensable because that will determine your weaknesses and give you the chance to amend them. With the availability of detailed analytics in the Mocks' platforms nowadays, you will be able to understand every detail of your performance, from the number of seconds you have spent on each question to the section that has taken your maximum time with minimum productivity.
This is the only way to improve oneself by leaps and bounds. Have an interval of 2 days between two mocks and spend these days working on your weak areas that you discovered in the last mock and, of course, keep honing your strong areas. If you are consistent with this exercise till you give CLAT, there will be no concept you would not have dealt with and improved upon by the time you sit for CLAT.
After having taken the first five mocks by ignoring losing marks due to negative marking, your next step should be to take the subsequent 5 mocks by taking the negative marking aspect into account and see how you fare. You need to compare these two methods and see whether you are gaining from it or not.
It will not take you more than a few seconds to decide whether you can answer a question correctly. Do not squander your time on any specific question(s). Every second is decisive in this exam. Being attached to any question or topic might turn out to be detrimental for you.
Subsequently, you need to linger around in a place where you know that you would lose marks due to negative marking but you will not overthink it to affect how you navigate the paper. Taking the paper with ease and ignoring only those questions which you are absolutely clueless about should be your mantra. No matter how much you prepare, the only thing that matters is your performance on the exam day. So, inculcating the ability of staying composed and not get stressed at all while you take the mocks will help you immensely on the day of CLAT.
A distracting candidate sitting beside you, an alarmed state of mind seeing a pile of awful questions or a grumbling invigilator could take away a handful of minutes from your basket of 120. Do not let any of that affect you. Like a horse that is made to wear to a blinder to stay focused, you must develop a mental defence mechanism to stay focused and optimally utilise all 120 minutes.
After all, you do understand how important this exam is for you and giving it your best shot is the only option that you have at your disposal. By giving your best you can crackdown CLAT at one go. For the best guidance, you can join our offline and online clat coaching classes.