REVOLT OF 1857
On March 29, 1857, a soldier named Mangal Pandey attacked and fired at his senior at Barrakpur in Bengal (in 19th and 34th Native infantry).
On May 10 of 1857, there was a mutiny of sepoys at Meerut (3rd native cavalry).
Mutiny spread throughout UP along with some other parts of the country.
'March to Delhi' became the battle cry of the rebels. At Delhi, the Mughal emperor Bahadur Shah II was proclaimed the Emperor of India.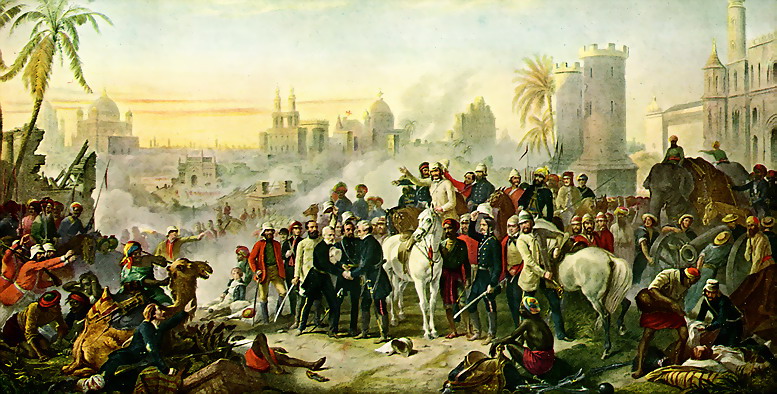 IMPORTANT PERSONS
Bakht Khan (captured Delhi, was from the Barreily unit of army).
Nana Sahib alias Dhondhu pant (from Kanpur, along with Tantia Tope and Azimullah ).
Begum Hazrat Mahal of Awadh (declared her son as Nawab of Awadh).
Rani Lakshmibai, the widowed queen of Raja Gangadhar Rao of Jhansi (Tantia Tope joined her, and they defeated the Scindia of Gwalior, but both were defeated by Sir Huge Rose. She died on June,17,1858, while Tantia was later captured and executed).
Kunwar Singh and Amar Singh (Bihar).
Maulavi Ahemedullah (First Awadh and then Rohilkhand).
Devi Singh of Mathura.
Kadam singh of Meerut.
CAUSES OF FAILURE
Scindia of Gwalior, the Holkar of Indore, the Nizam of Hyderabad, the Raja of Jodhpur, the Nawab of Bhopal, the rulers Patiala, Sindh and Kashmir and the Rana of Nepal provided active support to the British.
IMPACT OF THE REVOLT
The revolt was mainly feudal in character carrying with it some nationalist elements.
The control of Indian administration was passed on to the British crown by the Govt. Of India Act, 1858.
The army was carefully reorganised to prevent the recurrence of such an event.
SOCIAL AND CULTURAL UPRISINGS
BRAHMO SAMAJ (1828)
Founded by Raja Ram Mohan Roy in 1828.
Criticized Sati Pratha, casteism and advocated widow remarriage.
He was opposed to Sanskrit system of education, because he thought it would keep the country in darkness.
Other important leaders were Devendranath Tagore (father of Rabindranath Tagore) and Keshab Chandra Sen.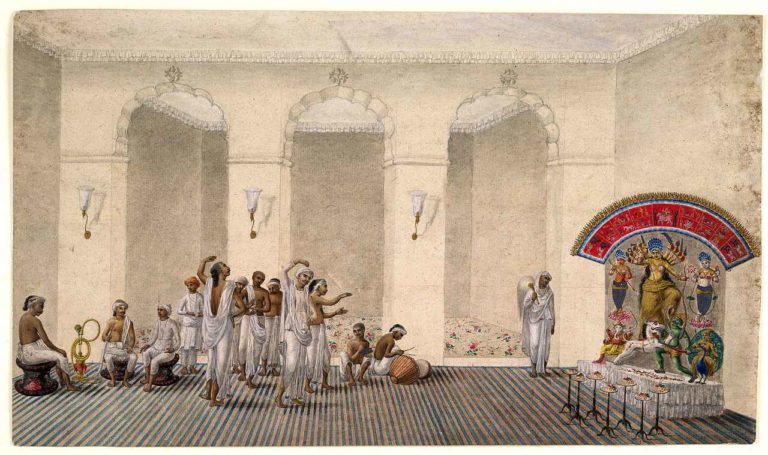 ARYA SAMAJ
Founded by Swami Dayanand (or Moolshankar) in 1875.
His motto was 'Go back to the Vedas' & 'India for the Indians'. He disregarded Puranas, idol worship, casteism and untouchability. He advocated widow remarriage.
Dayanand's views were published in his famous work, Satyarth. He also wrote Veda Bhashya Bhumika and Veda Bhashya.
RAMAKRISHNA MISSION
Founded by Vivekananda (earlier Narendranath Dutta) (1863 – 1902) in 1897, 11 years after the death of his guru Ram Krishna Paramhans.
Vivekananda attended the Parliament of Religion at Chicago in 1893.
Irish woman Margaret Nobel (known as Sister Nivedita) popularized it.
YOUNG BENGAL MOVEMENT
Founded by Henry Louis Vivian Derozio (1809 – 31). He was a teacher in Hindu College in Calcutta.
He urged the students to live and die for truth. He also supported women's education are their rights.
VEDA SAMAJ
Called Brahmo Samaj of South. Started by Sridharalu Naidu.
He translated books of Brahmo Dharma into Tamil and Telugu.
DHARMA SABHA
Initiated by Radhakant Deb in 1830.
Was opposed to reforms and protected orthodoxy, but played an active role in promoting western education even to girls.
LOKAHITAWADI
Started by Gopal Hari Deshmukh. Advocated western education and a rational outlook. He advocated female education for the upliftment of women.
As a votary of national self – reliance, he attended Delhi Dubar in 1876, wearing handspun khadi cloth.
SERVANTS OF INDIAN SOCIETY
Formed by Gopal Krishna Gokhale in 1915.
It did notable work in providing famine relief and in improving the condition of the tribal.
RADHASWAMI MOVEMENT
Founded in 1861 by banker of Agra, Tulsi Ram, popularly known as Shiv Dayal Saheb or Swami Maharaj.
The sect preached belief in one supreme being, the Guru's supreme position and a simple social life for the believers (the satsangis).
THEOSOPHICAL SOCIETTY
Founded by Westerners who drew inspiration from Indian thought and culture.
Madam H P Blavatsky laid the foundation of the movement in US in 1875. Later, M S Olcott of US army joined her.
In 1882, it was shifted to India at Adyar (Tamil Nadu).
Annie Besant was elected its President in 1907. She founded the central Hindu college in 1898, which became Banaras Hindu University in 1916.