By Siddharth Dey
Nikhil is an expert thief. Apart from being the slippery cat that he is, Nikhil has a complete distaste towards Richa. Richa is a film star.
Nikhil manages to sneak into the premiere of the film Happy Few Years. He sees Richa carrying her Louis Vuitton clutch, in which she has her prized possession called 'fame'.
While the eyes of the crowd and the paparazzi are glued to the star cast, Nikhil manages to get Richa's clutch, unnoticed, and sneak away.
Apart from her expensive clutch, Nikhil has robbed Richa of her 'fame'; quite literally, de-prived her.
Only if that was how de-famation occurred, things would have been easier for everyone.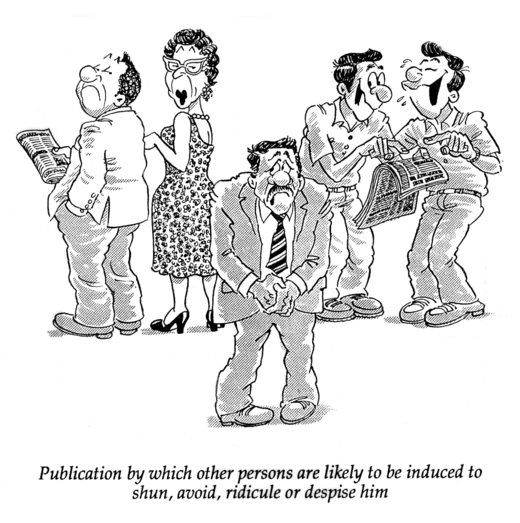 WHAT IS DEFAMATION?
Defamation is when a person has been robbed or deprived of one's fame (de-fame). However, why 'fame' isn't the best word to describe it is because it automatically conveys the idea that the person must be famous; nor is fame a tangible object to be physically robbed of.
So, defamation is best expressed as depriving a person of their sense of reputation that exists in the eyes of other right-minded people around him/her. Soak in those words. They'll be of use soon.
Reputation, like a house of cards, is very difficult to build, but can come tumbling down without even without as much as a moment's notice.
Setting aside cases where that is done by you unto yourself (read a Bombay Times or t2 for an encyclopedia-ful of such cases), in the event someone puts as much as a scratch on your reputation, the law of tort provides a remedy through an action for defamation.
WHAT ABOUT FREE SPEECH?
The first and immediate question that arises is that – do we not have a right to free speech?*
If you pour in a spoonful of reasonableness into that mix, just like an able lawyer, you will see that such an unfettered right will leave open the scope for a verbal diarrahoea pandemic across the human species.
Just think – if even a handful of the news anchors, some politicians, and some upstart celebs had no restrictions on their speech…or let us stop your thought train right there by asking, they should not, right?
Absolutely not!
Now think what if an entire army of such persons let loose their noise boxes…
Reining in the horses once again – the law has, and naturally so, provided for 'reasonable restrictions'** that are placed on our free speech.
Constitutionally, we can freely speak and express as long as that does not violate a law which is enforced "in the interests of the sovereignty and integrity of India, the security of the State, friendly relations with foreign States, public order, decency or morality, or in relation to contempt of court, defamation or incitement to an offence."**
It means that a law which is made to uphold or protect the above-mentioned, and in the process hinder the right to free speech, is justified by virtue of being a reasonable restriction on the same.
HOW DOES 'X' DEFAME 'Y'?
There are three checks for a statement to be categorized as defamatory:
The statement has to be defamatory in nature, i.e., wrongly deprive a person of his/her sense of reputation.
The statement must refer to the plaintiff. In case of ambiguity, the perception of the people around the person will be taken into account by looking at whether or not they were able to draw a link between the statement and the person. Since perceptions will differ from person to person, the 'reasonable man' standard will apply in determining the nature of the statement.
The statement must be published, i.e., reach the eyes or ears of a third party other than the plaintiff and the defendant.
A very simple reason as to why intention is immaterial for defamation is that allowing this defence would let all hell break loose – the most random of statements will be made and defended as a "slip of tongue", without incurring any liability.
Also, a person's sense of reputation is attached to his/her personal dignity, and so individuals must be careful of their acts/comments, especially as to avoid doing it 'unintentionally'.
TYPES OF DEFAMATION
A defamatory statement can be transmitted in either of two ways:
1) Through text or graphic, categorized as libel. Libel is permanent in nature, i.e., will stay on as long as the text/graffiti/statue or effigy/pictures, etc., stays.
2) Through speech, gestures or actions, categorized as slander. Slander is typically non-permanent or transient in nature, such that the effect of the defamation is considered to subsist for the duration of the action or comment.
Libel
For an action of libel the material in contention must be proved to be:
False
Defamatory
In writing, or other permanent form
Made public, e., published.
The defamatory comment needs to make reference towards the plaintiff, indirectly or directly, such that a reasonable connection can be drawn between him/her and the comment. Neither is it necessary that the person be specifically named, nor is the intention of the defendant to defame of any significance.
Defamation, however, cannot occur against deceased persons or a category of persons (such as doctors).
In such cases, if the defamation injures a living person's reputation (say, a deceased man was alleged to have had multiple partners, which impliedly questioned the legitimacy of his son), that person may sue for defamation.
In case of class defamation, let's say, it is alleged that doctors refuse to give receipts to avoid paying taxes, is a general statement. But, if it is said that doctors of Balloghata YME Hospital, specifically, refuse payment receipts, the said doctors will have a claim in defamation.
The key here is that the person/persons who allege to be defamed must be identifiable, such that the comment can be linked to that particular person/persons.
Publication
The publication aspect of defamation is also interesting. As stated above, transmission to any third person will result in defamation. But, is that the absolute rule?
No.
Consider the situation that you are a high ranking official. Aneesh, an India Against Corruption supporter, with all his hate directed towards you, slams you left and right for n instances of corruption in his letter, but is mindful enough to put a eyes-only stamp on the envelope, just to be sure.
Your dear servant, who has no idea of written English or personal boundaries, chances upon the letter in the box, and goes through its contents. He can make out the Hindi inside the letter. Once he informs you of the same, your face is good competition to the freshest of tomatoes.
Your claim for defamation, will sadly fail, since Aneesh had no idea about your servant or his actions. We draw a distinction between intention to defame and intention to publish here.
Aneesh had no intention to publish (therefore, automatically, no intent to defame). The letter was meant only for you, and he had no reasonable idea that it could be read by a third party.
Consider that the postman himself could have read the letter, or the envelope might have flipped open due to mishandling and the letter read after it had slipped out. These circumstances are unforeseeable, and the publication was, thus, outside the defendant's control.
In the case of libel propagated by newspapers, the proprietor, the editor, the printer and the publisher are liable to be sued separately. The only person who is exempt from liability will be the distributor – as long he was unaware of the libel in the paper, and that was not due to his negligence.
Slander
Slander, apart from as already explained above, can occur in a way that closely represents libel.
For example, if you dictate defamatory comments to your clerk, who types it onto a letterhead, the communication to the third person is occurring through speech. So, the distinction is that the mode of transmission is one which is transient.
Defences
Truth or justification
Truth acts as an absolute defence, even if the statement is not entirely, but substantially true. Since, a claim of defamation does not depend on intent, the defendant cannot rely on the fact that s/he was just passing on rumours or hearsay, or that s/he honestly believed the statement to be true.
Fair and bona fide comment
A fair and bona fide comment made in public interest will not be considered defamatory. This is because some amount of legitimate criticism in such matters is justifiable. The loss occurred is damnum sine injuria, and therefore, non-actionable.
Privileges
The defence of Privilege is given to a person who holds some special status vis-à-vis the circumstances. This privilege can be further classified into Absolute Privilege and Qualified Privilege.
As the name suggests, the former is a complete bar against an action of defamation even if the statement is defamatory (eg. comments made during Parliamentary or Judicial Proceedings, or any other case where the entity in question holds this privilege).
In case of Qualified Privilege, an action will be successful if the comments were made maliciously. Such Privilege arises in case of:
Legal, social or moral duty (owed towards one's kin or employers)
For self-protection
For protection of common interest
For protection of public good
So, a defamatory statement can be made in a husband-wife, father-son, master-servant, lawyer-client, and friend-friend relationship as a qualified privilege.
But, this privilege is lost when the defendant goes beyond the limits of interest which the party/parties hold(s) in the matter or abuses the said privilege (say, by making a malicious comment and then using the privilege as defence).
Summary
Defamation is the making of a statement/gesture/any other communication which reduces a person's sense of reputation in the eyes of the right-minded (reasonable) people of society.
The claim of defamation thus acts as a restriction on an unchecked right to freedom of speech which affects a person's reputation.
Defamation can occur either through slander or libel, the former being transient in nature as in speech or physical gesture, the latter being permanent such as text, pictures, and effigies.
To be defamatory, the speech has to be: 1) defamatory and false in essence 2) make some direct or indirect reference to the plaintiff 3) publication of the statement. The intention of the accused is largely immaterial here.
The reference will be determined as whether the right-minded people can construe the statement to refer to plaintiff.
Publication has to be to any third person other than the accused and the defendant, and must be either actively done (such as a Twitter update) or passively (a defamatory document left on a table in a public office where it might catch someone's eye), but not inadvertently (a servant taking a letter out of his master's drawer and reading it).
The defences to defamation are of: 1) truth 2) fair comment and 3) absolute and qualified privilege. Only in truth and absolute privilege serve as absolute defences, but the other need to be void of elements such as malice in order to stand as a defence.
*as a guaranteed Fundamental Right under article 19 (1)(a) of the Constitution of India.
** as under article 19 (2).