By Amrita Ghosh
Q. Rearrange the given sentences to ensure coherent flow.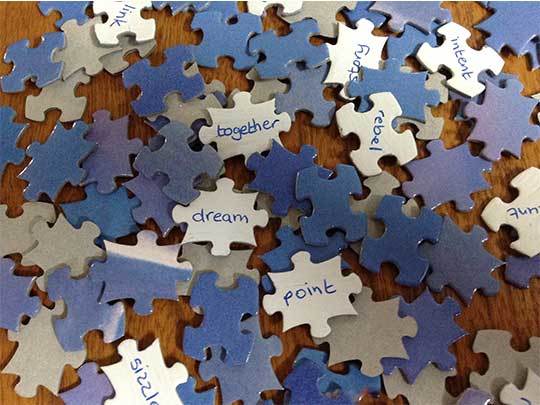 1
A. The giggle is a dirty Caspar.
B. Translated from recorded Mooseheart slang, the remark means: "The visiting lecturer is a very queer person. The girls are gossiping about him."
C. The cattle are aggieing about him.
D. If a visiting lecturer had chanced to overhear this remark at Mooseheart, Ill., site of a Loyal Order of Moose home & school for some 1,000 orphans, he would either be mystified or mortified.
ABCD
DACB
ACDB
BCDA
2
A. Into the Allied net swam the second biggest fish yet caught: smooth, grey Franz von Papen, 6 5-year-old ex-Chancellor, longtime instrument of German dagger diplomacy.
B. Only Rudolf Hess, who had flopped up on the bank of his own accord, was a greater prize.
C. They found him dining alone in elegant splendor.
D. A U.S. patrol picked up Papen in the Ruhr.
E. He wore his accustomed knickerbockers (he is proud of his legs); on a couch rested a Tyrolean hat with a rakish feather.
ABDCE
ECDBA
ABCDE
DECAB
3
A. A colonel came in.
B. At first he heard no voice on the other end; then a San Francisco broadcast coming over the phone line made clear to him why his informant could find no words.
C. The MP just stared at him.
D. In Chungking the spring dawn was milky when an MP on the graveyard shift picked up the ringing phone in U.S. Army Headquarters.
CABD
BDAC
DBAC
BADC
4
A. But most went to work, knowing that discovery could not be stopped, that the U.S. and its scientific allies must make it first.
B. Behind the blackout curtains, physicists got their work orders.
C. Many hoped that they would fail and that their failure would prove forever irrevocable.
D. A few, horrified by what was planned, refused the summons.
CABD
DACB
ADBC
BDAC
5
A. Sturdy Charles Gossett, a well-to-do farmer whose political thinking plows a furrow well to the right of center, resigned his governorship and let his successor appoint him to the vacancy on Capitol Hill.
B. With Democrat Gossett replacing Republican Thomas, the Senate balance-of-power is right back where it started after the 1944 elections.
C. To fill the vacancy left by the death of Idaho's Republican Senator John Thomas, Idaho's Democratic Governor Charles G. Gossett exercised a governor's well-used prerogative.
D. Although five Senators have died and two resigned since the elections, the Democrats still have 56, the Republicans 38.
CABD
DABC
ABDC
ADCB
6
A. About half the business went to airframe manufacturers, half to engine and equipment makers.
B. The biggest chunk—upwards of $200 million—went to Boeing, which got the bulk of the bomber orders.
C. New Navy orders swelled the total to nearly $2 billion for 3,366 planes.
D. In fiscal 1949 and 1950, said Air Force Secretary W. Stuart Symington, the Air Force would spend $1,345,165,000 for new planes. It was much more than the industry had expected.
BACD
DCAB
BCAB
ABCD
7
A. Nine girls in the senior class at Royal Oak (Mich.) High School went through graduation ceremonies last week, but they didn't graduate.
B. They got blank diplomas instead.
C. Marks had warned them all a year ago that he would have no organized cliques in his school, and the girls promised to disband but when he found out that three societies were still going, Principal Marks docked each of the 36 offenders ten study credits—to be made up in summer school.
D. It was Principal Miles W. Marks's way of punishing them for belonging to high-school sororities, illegal in Michigan.
CABD
DABC
ABDC
CABD
8
A. And … no private companies are big enough to finance it." One topflight show, McDonald estimates, would cost almost $10 million a year.
B. It's a mean man who won't promise; and there has been nothing mean about the sponsors of television.
C. Television has loitered "just around the corner" for so long, says President Eugene F. McDonald Jr. of the Zenith Radio Corp., because it is trapped in a "vicious triangle."
D. The triangle: "Advertisers won't sponsor television programs without a mass audience. We can't get mass audiences until the American people are given . . . pleasing . . . entertainment.
BCDA
BDAC
CADB
DACB
9
A. There was no doubt that domineering, salt-crusted Patrick J. McHugh had tight control over Massachusetts' fishing fleet.
B. When prices dropped after the war, and with them the fishermen's take-home pay (based on a share in the profits), McHugh ordered each boat to limit its catch, in an effort to bolster the market.
C. The 4,200 members of his independent Atlantic Fishermen's Union manned practically every sizeable trawler, dragger and gill-netter that sailed out of New Bedford, Gloucester and Boston.
D. The union had its own selling rooms in Gloucester and New-Bedford, and dictated who could and who could not buy there.
BDAC
CADB
DCAB
ACDB
10
A. It was the seven-car "Freedom Train," a traveling museum carrying the original Bill of Rights, George Washington's copy of the Constitution and 126 other historic U.S. documents (all under bulletproof glass).
B. It rolled on rails, was painted red, white & blue, and was guarded by 27 marines.
C. After three days in Philadelphia, it would be off on a yearlong, 33,000-mile tour through all the 48 states.
D. In Philadelphia this week the U.S. would see a new kind of propaganda machine. It was streamlined, diesel-powered and air-conditioned.
DABC
DBAC
CABD
CBAD
11
A. The unwelcome guests: Novelist Howard (Freedom Road) Fast, an editor of the Communist New Masses; Communist Gerhart Eisler, reputed U.S. Comintern boss; Arnold Johnson, legislative director of the Communist Party; Carl Marzani, dismissed by the State Department for concealing his Communist card.
B. In less dogmatic days, most U.S. colleges were places where all sides of many questions were heard.
C. But times have changed. Last week, six colleges barred their doors to speakers who were Communists or fellow travelers.
D. Student groups sponsored after-hours speeches by Republicans, Democrats, Communists, Buchmanites, Zoroastrians and ecdysiasts.
BDCA
ACBD
BADC
DACB
12
A. Newsmen prodded him for a weather report.
B. Economist Nourse adjusted his pince-nez. This, he said gravely, was a time for "masterly silence."
C. Edwin G. Nourse, chairman of the Council of Economic Advisers, which counsels the President, took a long look at the falling barometer of commodity prices last week.
D. Was this a crashing cloudburst, or just a heavy shower that might clear away some of the hot air of inflation?
ADBC
BADC
CADB
ABCD
13
A. By 10 a.m., crowds had jammed every available inch in the old House caucus room.
B. Motion-picture and television cameras stood tripod to tripod, electrical cables matted the floor like jungle vines.
C. Both crowds and cameramen had come with a single purpose: to watch James Caesar Petrillo, the union boss of all U.S. musicians, dropped into the legislative meat grinder and publicly reduced to scrapple.
D. The House Education and Labor Committee was in a bitter and bilious mood because its members had spent six days investigating Petrillo's practices.
BACD
ACDB
DBCA
ABCD
14
A. Though Butte still has much high-grade ore left, it is getting harder to mine.
B. Generations of mining men knew Butte, Mont, as an "island of easy money surrounded by oceans of whiskey."
C. For 70 years, the Butte district—a mile high and almost five miles square—supplied the U.S. with one-third of its copper. But in recent years Butte (pop. 40,000) has seen little easy money.
D. Since 1940, 8,000 had left Butte for better paying jobs.
ABCD
BCAD
DCBA
ABDC
15
A. In the refined splendor of the Hotel Ritz garden last week, some 1,500 diplomats and millionaires and their ladies gathered to sip champagne and nibble pastries in honor of the hotel's 50th birthday.
B. The affair was Paris' biggest and smartest since the liberation.
C. None contributed more glitteringly to the glitter than a white-haired little woman who greeted them at the entrance in fluent French, English or Spanish.
D. She was 81-year-old Marie Louise ("Mimi") Ritz, widow of the man who founded the hotel—and thereby made his name a synonym for ultra-fashionable.
BACD
ABCD
CADB
DCAB
Answer Key
1. c. ACDB
2. a. ABDCE
3. c. DBAC
4. d. BDAC
5. a.CABD
6. b.DCAB
7. c.ABDC
8. a.BCDA
9. d.ACDB
10. b.DBAC
11. a.BDCA
12. c.CADB
13. d.ABCD
14. b. BCAD
15. a. BACD
YOU CAN REGISTER FOR OUR CORRESPONDENCE COURSES HERE.
You can read more about English HERE
You can read more about Logical Reasoning HERE
You can read more of Current Affairs HERE
You can read more of Legal Reasoning HERE.
You can read more of General Knowledge HERE
CLATapult was founded by 7 alumni of NUJS in 2012. It boasts of some fantastic teachers from NUJS (Remember! CLAT Coaching by those who have been there and done that) and, currently, has 2 centers in Kolkata and 1 in Bhubaneswar.