RELATING TO THE DOMESTIC PRODUCT
GROSS DOMESTIC PRODUCT at Market price = Market value of final output of goods and services produced within the country's domestic economy in a period of one year.
NET DOMESTIC PRODUCT at Market Price = GDP – Depreciation
NET DOMESTIC PRODUCT at Factor Cost = NDP (MP) – Indirect Taxes + Subsidies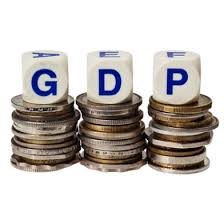 RELATING TO THE NATIONAL PRODUCT
GROSS NATIONAL PRODUCT at Market Price = GDP (MP) + Net Factor Income from Abroad
NET NATIONAL PRODUCT at Market Price =GNP (MP) – Depreciation
NET NATIONAL PRODUCT at Factor Cost
OR
NATIONAL INCOME = National product (MP) – Indirect Taxes + Subsidies
PER CAPITA PRODUCT/INCOME = National Income/Population
OR
= Net National Product at Factor Cost/Population.
NOTE
The Ist estimate of National Income was prepared by Dadabhai Naoroji for the year 1867-68.
The Ist scientific estimate was made by Prof. V. K. R. V. Rao for the year 1931-32.
After independence, recognizing the importance of estimate of national income and its various components, the Government of India appointed the National Income Committee in 1949, with C. P. Mahalanobic as the Chairman.
Following the report of this committee, the task of national income was entrusted to the Central Statistical Organisation (CSO).
INDIAN TAX STRUCTURE
DISTRIBUTION
Some taxes are levied, collected and retained by the Centre. These include Customs duty, corporation tax, taxes on capital (other than agricultural land) etc.
Some taxes are levied and collected by the Centre but shared with the States. These include taxes on income other than agricultural income and union excise duties on goods included in Union List, excepting medicinal and toilet preparations.
Some taxes are levied and collected by the Centre but the proceeds are to be distributed among States. These include succession and estate duties in respect of property other than agricultural Land, terminal tax on goods and passengers, tax on railway fares and freights, taxes on transaction in stick exchanges and future markets and taxes on sale or purchase of newspapers and ads.
Some taxes are levied by the Centre but collected and appropriated by the States. These include stamp duties other than included in Union List and excise duties on medicinal and toilet preparations.
Taxes belonging to State exclusively are land revenue, stamp duty, etc.
STRUCTURE OF TAXES
DIRECT TAXES
Include taxes on income and property, the important ones being personal income tax, corporate tax, estate duty and wealth tax.
Income tax is progressive in India, i.e., the rate of tax is not uniform but rises progressively with the rice in money income.
During the last two decades, there has been a continuous reduction in the tax rate because high rates of income tax had merely encouraged tax evasion and growth in black money.
INDIRECT TAXES
Include Sales Tax, Excise Duties, Customs Duties, etc.
The Government of India earns maximum from Union Excise Duty.
YOU CAN REGISTER FOR OUR CORRESPONDENCE COURSES HERE.
You can read more about English HERE
You can read more about Logical Reasoning HERE
You can read more of Current Affairs HERE
You can read more of Legal Reasoning HERE.
You can read more of General Knowledge HERE
CLATapult was founded by 7 alumni of NUJS in 2012. It boasts of some fantastic teachers from NUJS (Remember! CLAT Coaching by those who have been there and done that) and, currently, has 2 centers in Kolkata and 1 in Bhubaneswar.