GREEN REVOLUTION
Indian Green Revolution is associated with the use of HYVS (High Yielding Variety Seeds), chemical fertilizers and new technology which led to a sharp rise in agricultural production during the middle of 1960.
The term 'Green Revolution' was given by American scientist, Dr. William Gande.
During the middle of the sixties, Indian agriculture scientists developed a number of new high yielding varieties of wheat by processing wheat seeds imported from Mexico. A similar improvement in variety of rice was also observed.
The credit of this goes not only to Nobel Laureate Dr. Norman Borlaug, but also to Dr. M.S. Swaminathan.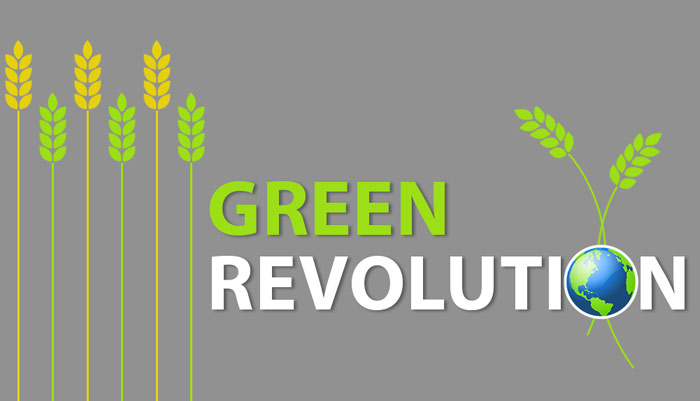 THE REVOLUTIONS
| | | | |
| --- | --- | --- | --- |
| Revolution | Area | Revolution | Area |
| Yellow Revolution | Oil seeds | Black Revolution | Petroleum Production |
| White Revolution | Milk | Golden Fibre Revolution | Jute |
| Blue Revolution | Fish | Red Revolution | Moss/Tomato |
| Pink Revolution | Shrimp/Meat/Onion/Medicine | Circular Revolution | Potato |
| Brown Revolution | Non-conventional energy resources/Leather/Cocoa | Silver Fibre Revolution | Cotton |
| Grey Revolution | Fertilizer | Silver Revolution | Egg/Poultry Farming |
| Golden Revolution | Horticulture/Honey | Evergreen Revolution | Agriculture |
IMPORTANT INDUSTRIES OF INDIA
IRON & STEEL INDUSTRY
Ist Steel Industry at Kulti, near Jharia, West Bengal – 'Bengal Iron Works Company' in 1870.
Ist large scale steel plant – TISCO at Jamshedpur in 1907 followed by IISCO at Burnpur in 1919. Both belonged to private sector.
The first public sector unit was 'Vishveshvarayya Iron and Steel Works' at Bhadravati, Karnataka.
PUBLIC SECTOR STEEL PLANTS
| | |
| --- | --- |
| Location | Assistance |
| Rourkela (Orissa) | Germany |
| Bhilai (MP) | Russian Government |
| Durgapur (WB) | British Government |
| Bokaro (Jharkhand) | Russian Government |
| Burnpur (WB) | Acquired from Private Sector in 1976 |
| Vishakhapatnam (AP) | Russian Government |
| Salem (Tamil Nadu) | – |
| Vijai Nagar (Karnataka) | – |
| Bhadravati (Karnataka) | Nationalization of Vishveshvarayya Iron & Steel Ltd. (Owned by Central and State Govt.) |
All these are managed by SAIL (At present all important steel plants, except TISCO, are under public sector)
Steel Authority of India Limited (SAIL) was established in 1974 and was made responsible for the development of the Steel Industry.
Bhilai, Durgapur and Rourkela were established during the second Five Year Plan. Bokaro was established during the third while the steel plants at Salem, Vijai Nagar and Vishakhapatnam were established in the Fourth Five Year Plan.
Presently India is the 4th largest steel producing country in the world.
JUTE INDUSTRY
Jute industry is an important industry for a country like India, because not only does it earn foreign exchange but also provides substantial employment opportunities in agriculture and industrial sectors.
Its first modernized industrial unit was established at Rishra in West Bengal in 1855.
The jute industry in the country is traditionally export-oriented. India ranks number one in raw jute and jute goods production and number two in export of jute goods in the world.
COTTON AND TEXTILE INDUSTRY
Oldest industry of India, and employs largest number of workers.
It is the largest organized and broad-based industry which accounts for about 4 per cent of GDP, 20 percent of manufacturing value added and one-third of total export earnings.
The first Indian modernized cotton cloth mill was established in 1818 at Fort Gloster near Kolkata but this mill was not successful. The second mill named 'Mumbai Spinning and Weaving Co.' was established in 1854 at Bombay by KGN Daber.
SUGAR INDUSTRY
Sugar industry is the second largest industry after cotton textile industry among agriculture based industries in the country.
India is now the second largest producer after Brazil and fourth largest exporter after Brazil, Thailand and Australia. Maharashtra contributes over one-third of the total sugar output, followed closely by UP.
FERTILIZER INDUSTRY
India is the third largest producer of nitrogenous fertilizers in the world.
PAPER INDUSTRY
The first mechanized paper mill was set-up in 1812 at Serampur in West Bengal.
The paper industry in India is ranked among the 15 top global paper industries.
SILK INDUSTRY
India is the second largest (first being China) country in the world in producing natural silk. At present, India produces about 16 per cent silk of the world.
India enjoys the distinction of being the only country producing all the five known commercial varieties of silk, viz, Mulberry, Tropical Tussar, Oak Tussar, Eri and Muga.
PETROLEUM & NATURAL GAS
First successful oil well was dug in India in 1889 at Digboi, Asom.
At present a number of regions having oil reserves have been identified and oil is being extracted in these regions.
For exploration purpose, Oil and Natural Gas Commission (ONGC) was established in 1956 at Dehradun, Uttarakhand.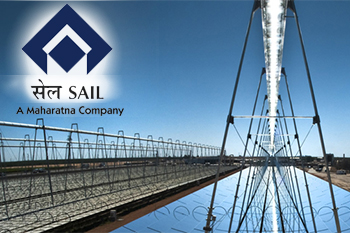 MARKETING AND DISTRIBUTION OF PETROLEUM PRODUCTS
Indian Oil Corporation (IOC): Established in 1964 by amalgamating Indian Refineries Ltd and Indian Oil Company Ltd.
Bharat Petroleum Corporation Ltd (BPCL): By acquisition of Burmah Shell in 1976.
Hindustan Petroleum Corporation Ltd (HPCL): Established in 1974 by acquiring the assets of US Company ESSO Eastern. In 1976, Government acquired Caltex Oil Refining Ltd. and merged it with HPCL.
Gas Authority of India Ltd (GAIL): Established in 1984, for handing post- exploration activities relating to natural gas. The company was assigned the priority task of setting up the cross country HBJ (Hazira, Bijapur and Jagdishpur) pipeline. Presently GAIL is the largest company in India for marketing of natural gas.
YOU CAN REGISTER FOR OUR CORRESPONDENCE COURSES HERE.
You can read more about English HERE
You can read more about Logical Reasoning HERE
You can read more of Current Affairs HERE
You can read more of Legal Reasoning HERE.
You can read more of General Knowledge HERE
CLATapult was founded by 7 alumni of NUJS in 2012. It boasts of some fantastic teachers from NUJS (Remember! CLAT Coaching by those who have been there and done that) and, currently, has 2 centers in Kolkata and 1 in Bhubaneswar.