Tanuj Kalia, the co-founder of CLATapult, recently decided to dedicate a chunk of his precious time to write a book, a book meant for aspirants, current students and parents and everybody closely or distantly associated with law.
The book is titled 'Law As A Career' and is published the prestigious 'Lexis Nexis'.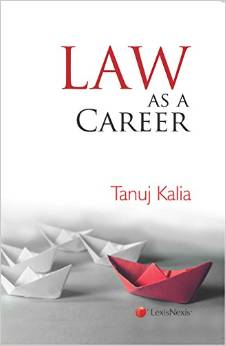 This book deals with
An overview of law as a career: Is law the right career option for you? What are the biggest myths about being a lawyer? Which are the best schools?
CLAT and other law entrance tests like the AILET, SET and LSAT: Get a complete section-wise guide on the ideal strategy
The college life: How to navigate through the cultural change from school to college? How to go about moot courts, paper publications and seminars? How to excel in your career while enjoying your college? Also get to know all about the LL.M. abroad option
Internships, CVs and jobs: How to plan and structure your internships in College? How to hunt for and secure the best internships? How to secure that elusive pre-placement offer (PPO) and prepare for job interviews? How to craft winning CVs and cover letters?
Career options: An A to Z guide on 20 amazing career options in law through in-depth interviews with 45 top-notch legal professionals. This chapter contains detailed guide for a career in litigation, law firms, NGOs, LPOs, private and public companies, IPR Law, legal journalism, academia, entrepreneurship, mediation, cyber law, tax law, politics and more
If you are interested in pursuing law, this book is a must-read.
Every student who joins CLATapult receives a free-copy of this book. For the rest, there is amazon.