This is the time of the year when every law aspirant has this nagging unease of enquiring about and filling up the forms of the upcoming law entrance exams.
In order to make that process a little less cumbersome, we have compiled the official links of these law entrance exams.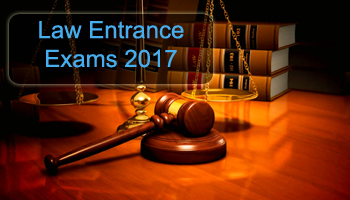 CLAT 2017 is being conducted by the Chanakya National Law University, Patna and is the 10th CLAT since its inception in 2008.
These are the 18 participating colleges in CLAT this year (in order of their ranks):
NLSIU, Bangalore
NALSAR, Hyderabad
NUJS, Kolkata
NLU, Jodhpur
NLIU, Bhopal
GNLU, Gandhinagar
HNLU, Raipur
RMLNLU, Lucknow
RGNUL, Patiala
MNLU, Mumbai
NUALS, Kochi
NLUO, Cuttack
DSNLU, Vishakhapatnam
TNNLS, Tiruchirapalli
MNLU, Nagpur
NUSRL, Ranchi
CNLU, Patna
NLUJA, Assam
CLAT will be conducted on the 14th of May, from 3 pm – 5 pm. You can fill up the form for CLAT HERE.
The All India Law Entrance Test 2017, the entrance exam for NLU-D, will be conducted on the 7th of May, 3 pm – 4 30 pm. The last date to submit the online application form is the 7th of April.
CLICK HERE to fill up the form for the AILET.
The Symbiosis Entrance Test, the law entrance test for Symbiosis University with three colleges within its ambit (Pune, Noida and Hyderabad), is a 150 minute long entrance exam consisting of 150 marks.
DETAILS
DATES
Registration Start Date
Monday, December 26, 2016
Registration close
Thursday, April 13, 2017 12.00 Midnight
Payment Close
Monday, April 17, 2017 12.00 Midnight
Admit Card will be live
Saturday, April 22, 2017 11.30 am
SET date
Saturday , May 06, 2017

Morning Session : 9.30 am to 12.00 noon

Afternoon Session : 2.30 pm to 5.00 pm

SET Result
Friday, May 19, 2017 11.30 am
You can register HERE for the Symbiosis Entrance Test.
Law School Admission Test
LSAT—India is a standardized test of reading and verbal reasoning skills designed by the USA–based Law School Admission Council (LSAC) for use by law schools in India.
The LSAT—India will be administered in multiple cities on 23rd April, 2017.
LSAT—India is a paper-and-pencil test with four sections.
Test duration – 2 hours and 20 minutes
Question type – Multiple Choice format
Registration Fee – Rs. 3800/-
Registration Window: Candidates can register for LSAT—India through ONLINE mode only.
Online Registration – September 14 2016 – April 10, 2017
You can CLICK HERE to register for LSAT India.
Another Law Entrance exam that has a few good participating Government colleges is the Maharashtra State Common Entrance test. The Registration Form for the MH CET is released in the month of April and the exam happens in June.
Barring these well known Law Entrances for the 5-Year Integrated LLB Programs, there are several other entrances for both 3-Year as well as 5- Year Law Courses in DU, BHU, AMU, IPUCET, Christ University, KIIT University, etc.