By Garima Pal
Instructions:
Always time your test tasks. Put your phone away and try to solve these questions under 10 minutes!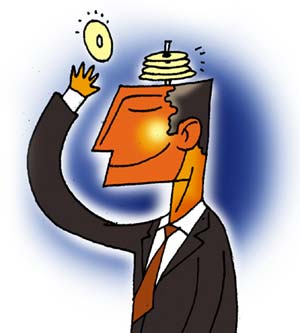 Directions: In each of the following questions, a statement is given followed by two conclusions. Give answer:
(a) If only conclusion I follows.
(b) If only conclusion II follows.
(c) If both conclusions I & II follow.
(d) If neither I nor II follows.
Q1. Statement: Millions die in road accidents every year.
Conclusions:
Those that travel only by air live longer.

Those that stay at home live longer.
Answer: (d)
Q2. Statement: All girls of my class are exceptionally beautiful.
Conclusions:
The girls of other classes are not that beautiful.

The girls of my class use a particular brand of beauty products.
Answer: (d)
Q3. Statement: P.V. Sindhu dedicated her success to her hard work and also to the mentorship provided by her coach Gopichand.
Conclusions:
All badminton players training under Gopichand have the potential to win an Olympic medal.

Hard work coupled with the right form of mentorship is bound to achieve success.
Answer: (b)
Q4. Statement: China is the largest producer of cotton in the world.
Conclusions:
China only produces cotton.

No other country in the world produces cotton.
Answer: (d)
Q5. Statement: Virat Kohli scored 200 runs in a test match won by India where the winning score was 350 runs.
Conclusions:
Virat Kohli scored the maximum runs from the Indian team.

Virat Kohli's score contributed heavily towards India's victory.
Answer: (c)
Q6. Statement: Due to demonetisation of Rs. 500 and Rs. 1,000 notes, people have stopped spending frivolously.
Conclusion:
People have stopped watching movies.

People are not saving cash for spending on just the necessities.
Answer: (b)
Q7. Statement: Around Valentine's Day, there is a hike in the price of roses.
Roses are in demand during Valentine's Day.

The demand for roses is higher than their supply around that time.
Answer: (c)
Q8. Statement: Smart employers hire smart employees.
Conclusion:
To be a smart employer, one must hire only smart employees.

An employer who is smart will always try to employ smart employees.
Answer: (b)
Q9. Statement: Prevention is the best cure.
Conclusions:
One must take precautions to prevent catching diseases.

One must never take curative measures in case one is suffering from a disease.
Answer: (a)
Q10. Statement: To become a lawyer, one must complete a degree in law at the bachelors level.
Conclusion:
Anyone with an LL.B. degree can practice in courts.

The minimum professional qualification for every lawyer is a degree in LL.B.
Answer: (b)
YOU CAN REGISTER FOR OUR CORRESPONDENCE COURSES HERE.
You can read more about English HERE
You can read more about Logical Reasoning HERE
You can read more of Current Affairs HERE
You can read more of Legal Reasoning HERE.
You can read more of General Knowledge HERE
CLATapult was founded by 7 alumni of NUJS in 2012. It boasts of some fantastic teachers from NUJS (Remember! CLAT Coaching by those who have been there and done that) and, currently, has 3 centers, 2 catering to the CLAT aspirants from Kolkata and 1 from Bhubaneswar.