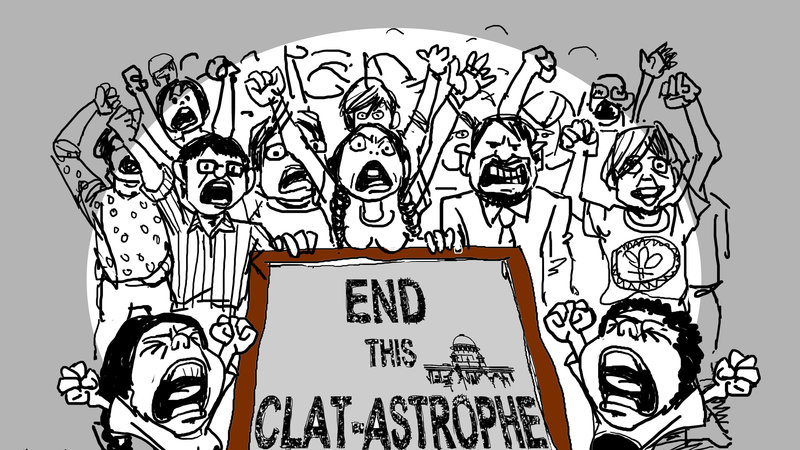 Sign the petition HERE
Dear CLAT-Chancellors:
May we please petition thee?
For an exam that's error free
Year after year
It's come under smear
For no fault of yours
But that of your peers
Who conduct CLAT from scratch
A robust rotating batch
Reinventing the wheel
With so much of zeal
And yet mucking it much
Past experience is such
Two thousand nine
All went fine
Till the paper was leaked
In a scam that reeked
A second paper was done
Quick questions spun
Tricks and treats galore
Leaving students so sore
"Legal aptitude" screamed a heading!
In a section worth shredding
Posing questions, a forty
On the law, oh so lofty!
Sample this: What's the name of the case?
Where judges bragged their technology base
Holding the law shouldn't lag
But sway with a tech-swag
Where evidence could be taken
Even by videoconferencing
Would you know the answer sir?
Or would this, in you, some dread, stir?
Why test students on the law
When they've got 5 years or more?
To learn from you and your peer
At a considerable cost of 3 lakhs per year!
And what of legal "aptitude"?
That heading, you used
Not a single question we found
In this paper so profound.
Just when we thought
The worst of CLAT had been wrought
You continue your swing
More errors you fling
The best though, you saved for last
An online exam and all that.
2015 seemed a boon
But alas, we spoke too soon!
For when the paper finally came
CLAT would never be the same
You tested for knowledge of a cancer protein
Were you serious, or just menacingly mean?
Or did you merely copy and paste
From a medical paper, in bad taste?
Plagiarise, it seems you did
From multiple sources, on the internet grid.
Experts say that more than half your paper
Is likely to fall out of copyright favour!
But t'was not just the copying
Also some serious slopping
A good 40 errors were discovered
By CLAT gurus that gathered.
Many more waiting to be found
In a paper so (un) sound
And yet you refuse to make amends
Stubbornly strutting your arrogance
Rubbishing RTI's, writs and the like
Asking students to take a hike!
What ails? Why this prolonged prick?
When this exam is what makes you tick?
The one filter that accounts for NLU pride
And hides all else there is to hide.
It's not about the money, is it?
For that can cause quite a fit
Mammon is no doubt mighty
But can also be fleetingly flighty.
We pray you get your act in order
And desist from further fodder.
For all and sundry
Including Babli and Bunty
Have mocked this CLAT
As a jovian jaunt, that's a fact.
They say it's no better than a lottery
Where skill is trumped by luck and sorcery
Why rely on new law schools each year?
Who start from scratch, causing many a tear.
Do set up a permanent space
And hire experts that amaze
Psychometrists and all
That in test framing, stand tall
Rather than winging this treat of a test
With less than the very best.
Indeed, if justice be the aim of law
Future CLATs must be without flaw.