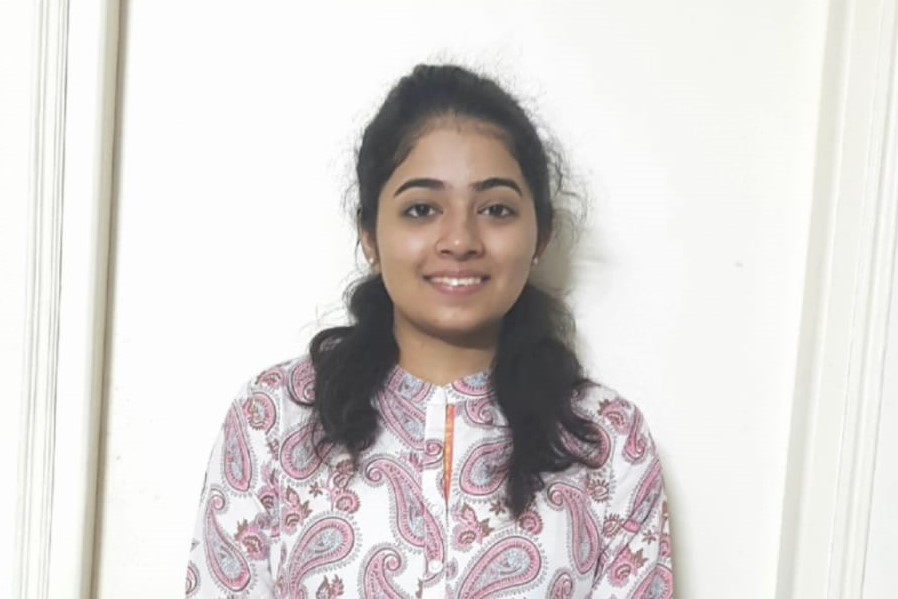 Athira Johny was a 1 year (Class-action) student at CLATapult. She secured an All India Rank of 32 in AILET 2019.
Congratulations on your excellent result in AILET 2019. How do you feel about being amongst the top-rankers in the state?
Athira: I feel that focus and determination coupled with a lot of hard work pays off. I felt a sense of achievement and  satisfaction having come closer to reaching the goals I have set out for my life.
Tell us something about yourself and your family?
Athira: I am native to Kerala but was brought up in Delhi for the most of my life .My father works at Coke, which is a transferable job and therefore we shifted to Kolkata in 2014. I finished my schooling from Mahadevi Birla World Academy. My mother is a housewife. I have a brother who is currently employed in a software company.
What prompted you to choose law?
Athira: I love engaging with people and as a lawyer I know I will be in a position to help individuals, groups and organizations. I also enjoy reading, writing and analyzing. Hence, with a degree in law I will be able to explore all these faculties and contribute to the society.
When did you start preparing for the exam? Take us through how you prepared for each subject in CLAT.
Athira: I joined CLATapult after taking a drop after 12th.
English: The best way to cover English is to follow a comprehensive book. With special focus on comprehensions, parajumbles, and vocabulary. I also used to prepare them by solving questions online.
Math: I think completing the modules handed out by CLATapult should be the first step. After doing the basics I moved on to RS AGARWAL and did the book thrice.
Logic: Practice, practice. Firstly, I did a structured study by understanding the concepts one by one for all chapters. Then I started picking out random questions from the books, past year papers and online sites and solved as many questions as possible.
Legal: Past year paper is the key with extra questions from modules and worksheets provided at CLATapult.
GK: My day began by opening the door and picking up the newspaper. I devoted 4hrs in the morning to this section.
Apart from CLAT 2019, which other law entrance exams did you take? How was your performance in those exams?
Athira: I took the entrance exam for CLAT, AILET, MHCET and SLAT. I did well in most of the entrances with a rank of 122 in SLAT, having qualified for the interview, Rank 69 in MHCET, AIR 312 in CLAT and AIR 32 in AILET.
What was your exam day experience? What strategy did you follow in the hall?
Athira: I tried to remain calm, cleared my mind and thought of those mistakes that I normally made when I used to give my mock, in an attempt to avoid making the same mistakes in the final paper.
How did CLATapult contribute to this?
Athira: The teaching staff at CLATapult has always been super cooperative. The warm and friendly teaching style, the modules and mocks were very helpful. Overall, one of the primary reasons for my AILET performance. It is a great environment to be nurtured in.
What skills and abilities do you consider important to do well in CLAT?
Athira: The most important skill in clearing an exam like CLAT is persistence i.e the spirit of never giving up . This is because there is nothing called cheap success. One needs to work hard and be prepared for the worst. They were times when my mock scores weren't consistent. I felt disappointed .But the ability to press on even when you feel like quitting is what gives you the edge over others.
Your strength and weaknesses – how did you deal with them?
Athira: In the first few months my focus was heavily on GK and English. I used to cover as much static, current and Legal GK as possible . In English I used to follow a book to understand the rules of grammar. I enjoy solving Legal Reasoning questions and that's precisely why I think I felt that's my strongest section. I used to solve the modules, past year papers and create a map of all similar principle-fact based questions. Then I moved on to Math and Logic. Math has been my favourite subject in school which is why I had a keen interest in this section. The classes at CLATapult were really helpful in understanding the basics. I used to practice a variety of Logical Reasoning questions from modules and other websites.
What do you think might have been the 'special ingredients' in your strategy that put your score so high up the scale?
Athira: Persistence, hard work and consistency.  AILET is a tough and lengthy exam. To crack this one needs to work hard and be consistent in the performance.
Mock tests – useful or overhyped? Which ones did you take and how did you go about them?
Athira:  Mocks are important and are a part of the preparation .Without knowing where we are going wrong we cannot improve ourselves.
I used to give 30 minutes to legal section. So while giving mocks if I was able to complete this section early, say within 25 minutess, I would not move on to the next section immediately. Rather I would wait for the surplus time to get over and then move on to the next section and try to solve that section in the allotted time. This is because one must always be under pressure when it comes to time management in competitive exams. Had I used the surplus time in the other section I wouldn't have been able to understand whether I needed to work on my speed in that particular section. I think this strategy helped me to clear AILET.
Any word of advice for new CLAT aspirants?
Athira: Particularly in legal reasoning, please READ THE PRINCIPLES AND FACTS CAREFULLY. I cannot stress enough. This is one mistake that has held me back from getting into the college of my choice. No matter how familiar you think you are with the facts please read the principles properly. This year they gave twisted principles in CLAT. Focused reading is really important.
Why should one join CLATapult?
Athira: One should join CLATapult if one wants to experience a more friendly way of teaching. In such an environment there is open communication and we are able to build positive relations with the teachers. There are ample reasons to join clatapult's offline and online coaching classes. You can also get highly benefit from their clat crash course.
**********************************************************************************