CLAT TIPS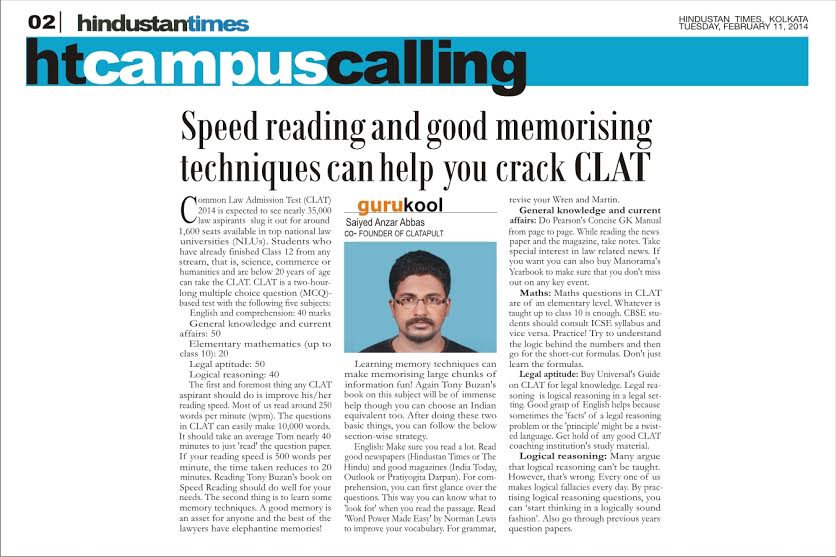 Common Law Admission Test (CLAT) 2016 is expected to see nearly 35,000 law aspirants slug it out for around 1,800 seats available in top national law universities (NLUs).
Students who have already finished Class 12 from any stream, that is, science, commerce or humanities can take the CLAT.
CLAT is a two-hourlong multiple choice question (MCQ)based test with the following five subjects:
English and comprehension: 40 marks
General knowledge and current affairs: 50
Elementary mathematics (up to class 10): 20
Legal aptitude: 50
Logical reasoning: 40
Speed Reading
The first and foremost thing any CLAT aspirant should do is improve his/her reading speed.
Most of us read around 250 words per minute (wpm).
The questions in CLAT can easily make 10,000 words.
It should take an average Tom nearly 40 minutes to just 'read' the question paper.
If your reading speed is 500 words per minute, the time taken reduces to 20 minutes.
Tip:
Reading Tony Buzan's book on Speed Reading should do well for your needs.
Memory Technique
The second thing is to learn some memory techniques.
A good memory is an asset for anyone and the best of the lawyers have elephantine memories.
Learning memory techniques can make memorizing large chunks of information fun.
Again Tony Buzan's book on this subject will be of immense help though you can choose an Indian equivalent too.
After doing these two basic things, you can follow the below section-wise strategy:
English
Make sure you read a lot.
Read good newspapers (Hindustan Times or The Hindu) and good magazines (India Today, Outlook or Pratiyogita Darpan).
Read 'Word Power Made Easy' by Norman Lewis to improve your vocabulary.
For grammar, revise your Wren and Martin.
Tip:
For comprehension, you can first glance over the questions.
This way you can know what to 'look for' when you read the passage.
General knowledge and current affairs
Do Pearson's Concise GK Manual from page to page.
While reading the newspaper and the magazine, take notes.
Take special interest in law related news.
Tip:
If you want you can also buy Manorama's Yearbook to make sure that you don't miss out on any key event.
Maths
Maths questions in CLAT are of an elementary level.
Whatever is taught up to class 10 is enough. CBSE students should consult ICSE syllabus and vice versa.
Tip:
Practice! Try to understand the logic behind the numbers and then go for the short-cut formulas. Don't just learn the formulas.
Legal Aptitude
Buy Universal's Guide on CLAT for legal knowledge.
Legal reasoning is logical reasoning in a legal setting.
Tip:
Good grasp of English helps because sometimes the 'facts' of a legal reasoning problem or the 'principle' might be a twisted language.
Get hold of any good CLAT coaching institution's study material.
Logical Reasoning
Many argue that logical reasoning can't be taught.
However, that's wrong.
Every one of us makes logical fallacies every day.
By practising logical reasoning questions, you can 'start thinking in a logically sound fashion'.
Tip:
Go through previous years question papers. The crash course of clat is also beneficial for clat aspirants.