What is law?
It is a set of rules imposed by the State, which regulate our relations with other individuals and the State, and which are enforced by the State.
In the words of Salmond, a great Jurist, "it is a set of principles applied in the administration of Justice".
Why is the knowledge of law important?
One should know law because ignorance of law is no excuse.
Although it is not possible for a layman to be aware of every branch of law, yet he must be familiar with the general principles of the law of the country.
For example, if a person boards a bus and travels without a ticket, he cannot plead that he was ignorant about the purchase of ticket.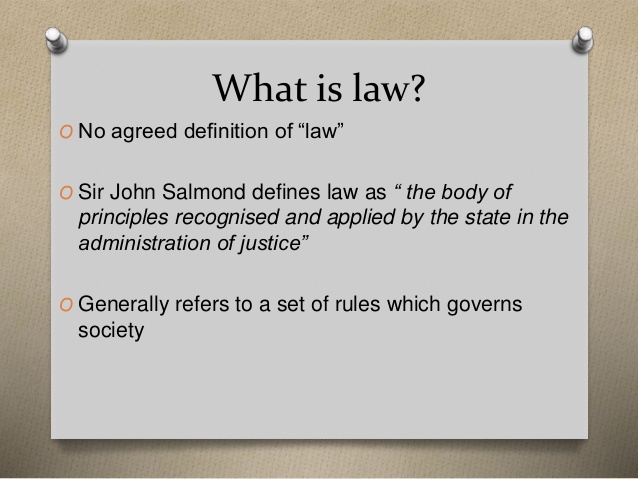 What are the SOURCES OF LAW?
Our entire set of laws has been derived from various sources. Let us examine them.
IMPORTANT SOURCES OF LAW
Custom
English Law
Precedents
Statutes
Custom:
Custom means established pattern of behaviour followed by people over generations. It is an ancient form of source and its importance is now on the decline, with rapid growth of legislation and precedents.
 For example, The Hindu Marriage Act derivers certain provisions from the Smritis and Vedas.
Custom will be valid only if it fulfils certain requirements, such as
 It must be in practice from time immemorial;
 It must be certain and definite;
 It must be reasonable;
 It must have been continuously in practice;
 It must not be opposed to public policy;
ENGLISH LAW:
The modern Indian law is closely modelled on the lines of English law. Many Acts such as Indian Contract Act, Negotiable Instruments Act, Partnership Act, were enacted, when India was under the British regime.
PRECEDENT:
Precedent or case law as it is popularly known is the decision pronounced by a Court.
The general rule of doctrine of precedents is that every Court is bound by the decisions of the Court superior to it.
STATUTE:
The recent legislations such as Companies Act of 1956, Information Technology Act of 2000, Trademarks Act, 1999 are a result of legislations passed by the Parliament.
What are the sub-divisions of law?
SUBSTANTIVE LAW
PROCEDURAL LAW
SUBSTANTIVE LAW:
It is a branch of law, which defines rights, duties, and obligations of persons with others or between the States.
 For example, Indian Contract Act, 1872 is an example of substantive law.
 Indian penal Code1860, which defines elaborately the various offences, is also a substantive law.
PROCEDURAL LAW:
Procedural law on the other hand, deals with the procedural aspects of securing justice.
 For example, Civil Procedure Code outlines the jurisdiction of Courts.
 The Criminal Procedure Code throws light on aspects such as filing FIR, arrest of persons, search warrants, trial procedures etc.
Thus a sound knowledge of both substantive and procedural laws is necessary to understand and appreciate law.
| | |
| --- | --- |
| Substantive Law | Procedural Law |
| Defines the rights | Lays down the procedure to secure justice |
| Determines the conduct and relations of the parties inter se. | Regulates the conduct and relations of courts and litigants |
| It is concerned with facts which constitute the wrong | It is concerned with facts, which constitute proof of a wrong. |
| Example: Contract Act, Law of Torts, Indian Penal Code. | Civil Procedure Code, Criminal Procedure Code |
Important Note:
While studying substantive law, never worry about how to prove, what to prove. It can be dealt with under the procedural law.
What are the branches of law?
BRANCHES OF LAW
PUBLIC LAW
Constitution, Criminal Law, Administrative Law
PRIVATE LAW
Contracts, Torts, Family law
Important Legislations
A BRIEF OUTLINE
1. Administrative Law
a. It is a public law
b. It deals with the structure, powers and functions of administrative authority.
c. The subject matter of administrative law comprises of (1) delegated legislation (2) administrative tribunals. (3) Judicial Review of administrative decisions etc.
2. Arbitration and Conciliation Act, 1996
a. It replaced the Arbitration Act, 1940.
b. It deals with all aspects pertaining to arbitration and conciliation, as methods to resolve conflicts especially in commercial transactions.
c. The Act gives effect to the United Nations Commission on International Trade law (UNCITRAL)
3. Civil Procedure Code, 1980
a. It is a procedural law
b. It deals with laws relating to the procedure of the courts of civil Judicature
c. It throws light on aspects such as
i. Territorial and Pecuniary Jurisdiction of Courts
ii. Contents of plaint, written statement
iii. Concepts such as Res Judicata, Sub judice.
iv. Review, Reference of cases.
v. Decree, order and Judgment.
4. Code of Criminal Procedure
a. It is also a procedural law
b. It deals with laws relating to the procedure adopted in the context of criminal offences.
c. It elucidates aspects such as
1. Hierarchy of criminal courts and their powers.
2. Classification of offences into cognizable and non con-cognizable offences, etc.
3. First information report
4. Reference and Revisions
5. Imprisonment, Death sentence, etc.
5. Consumer Protection Act
a. It was passed in the year 1986
b. It underwent important amendments in the year 2002.
c. It provides for the 3 tier redressal machinery comprising Of District Forun, State Commission and National Commission.
d. The objective of the Act is to provide speedy and economical justice to consumers.
e. The pecuniary jurisdiction of district forum includes claims upto Rs. 20 lakhs.
1. The pecuniary jurisdiction of state commission is 20 lakhs -1 crore
2. The pecuniary jurisdiction of National Commission is claims over 1 crore.
6. The Indian Evidence Act
a. It is concerned with the mode of proving whether a particular person committed the offence or not.
b. The Evidence Act provides answers to
1. What facts may and may not be proved?
2. How is the proof to be given?
3. What kind of proof is to be given?
4. Who is to give that proof? etc.
7. Limitation Act
a. It lays down the period within which a civil dispute shall be raised in a court.
b. It applies mainly to civil laws.
c. The rationale behind the Act is that law seeks to help the diligent and not the indolent.
d. The law of limitation bars remedy but does not extinguish rights.
e. It contains two schedules, which prescribe the time period, within which action may be initiated in the court.
For example, in the case of torts, the limitation period is one year.
Generally, for most contracts, the limitation period is three years.
8. Sale of Goods Act
a. It was enacted in the year 1930.
b. Prior to that, it was a part of Indian Contract Act.
c. It deals with sale of movable goods.
9. Transfer of Property Act
a. It was enacted in the year 1882.
b. Its objective is to provide for laws relating to immovable property
c. It includes provisions pertaining to transfer of immovable property through
1. Sale
2. Mortgage
3. Charge
4. Lease
5. Gift
10. Negotiable Instruments Act
a. It deals with law pertaining to instruments of credit such as
1. Bills of exchange
2. Promissory note
3. Cheque
b. It lays down legal rules pertaining to dishonour of cheques.
Terms used frequently in Law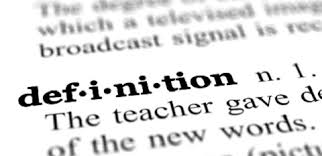 Plaintiff – A person who files the suit in a court.
Defendant – The person against whom the suit is filed
Suit – A process instituted in a court for protection of rights
Damages – Monetary compensation ordered by the court for breach of Contract or tort.
Void – Nullity
Voidable – Capable of being set aside at the option of a party
YOU CAN REGISTER FOR OUR CORRESPONDENCE COURSES HERE.
You can read more about English HERE
You can read more about Logical Reasoning HERE
You can read more of Current Affairs HERE
You can read more of Legal Reasoning HERE.
You can read more of General Knowledge HERE
CLATapult was founded by 7 alumni of NUJS in 2012. It boasts of some fantastic teachers from NUJS (Remember! CLAT Coaching by those who have been there and done that) and, currently, has 2 centers in Kolkata and 1 in Bhubaneswar.