"Negligence (Lat. negligentia, from neglegere, to neglect, literally "not to pick up something") is a failure to exercise the care that a reasonably prudent person would exercise in like circumstances.
The area of tort law known as negligence involves harm caused by carelessness, not intentional harm"
That's what your good friend1 Wikipedia says about the Law of Negligence. Not the best opening lines ever, but to break it down for you, let's focus on the second sentence – negligence IS carelessness.2
However, what makes it different from a completely involuntary act is that here, the defendant owes a duty of care, which he has not fulfilled/has omitted to perform. This duty of care is a basic form of responsibility that the defendant has for his actions.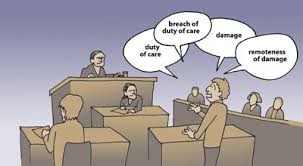 To whom does the defendant owe this duty of care? The neighbour principle comes into play here – a neighbour, in tort, is anyone who can be reasonably foreseen to be affected by the actions of the defendant.
The defendant owes the duty of care to this neighbour. The carelessness we mentioned in the first sentence is the non-fulfilment of this duty.
So, if Hema's house-maid has the habit of throwing dirty water down from the verandah onto the public road in front, and one not-so-fine day, she throws it onto Rekha, a High Court advocate, who was passing by, Rekha has a claim in tort.
This is because that even if, let's say, Rekha does not frequent that particular road, given it is a public road which is used by people generally, one should be careful in doing such acts (not doing it all, if opinion counts).
It could have been anyone else, one who does frequent the road, and the liability still hold. So, your neighbour is not a pre-identified individual/group, but instead is the object of the question, "is there anyone who has the reasonable scope of being affected by my actions?".
The question is answered with a "yes" or "no", and not by identifying who exactly will be affected by the said action.
The neighbour has to be one who is directly affected by the actions of the defendant, i.e., there is proximity between the cause and the effect.
This lies in the principle of novus actus interveniens, meaning that there should be no intervention of a new act which breaks the chain of causation.
A closely associated concept is that of remoteness of damage, which says that the link between the damage caused and the act causing the damage should not be too remote or unforeseeable. For example, if a doctor unknowingly administers a wrong dosage, the person affected will have a claim in tort.
However, if because of the same, he is unable to work for a few days and that thus affects his joint family income and resources, the doctor will not be liable for that because that is an indirect result of the negligence, which was unforeseeable.
Do not be misled by the words "non-fulfilment" and "omission" into thinking that negligence comes only from an act of omission.
Yes, it is true that the negligence arises out of an act of omission which should have been undertaken because of the duty of care owed to the neighbour, but, that omission can be one in a series of acts done.
For example, a stewardess, in exercise of passenger safety has followed all safety precautions to the 't', but has not switched on the seat-belt sign during take-off. That single omission, in a series of acts forms the negligence.
Therefore, it can be concluded that negligence arises out of a work half done, or the series of acts forming one whole, but with a missing component. For reiteration, when do you miss a step? When you do it carelessly.
That said, there is negligence even when there is no single act done (omission). That in itself is the negligence.
Confused? Let's use an example.
Indira (let's say) as a parent, has a duty to ensure the safety of her son Sanjay (let's say). Sanjay was drowning in the pond, but Indira, afraid that she will drown as well, did not do anything. She will be liable for negligence, unless there was no scope for her to save Sanjay (she could have called for help, unless they we're in a remote area).
Conversely, a complete stranger has no such duty towards Sanjay, unless (s)he wilfully undertakes that through some implicit or explicit gesture (to check your understanding, try answering the question in the exercise below).
Speaking of "scope", we are slowly shifting into the discussion on the kind of care or the standard of care owed to a neighbour. The standard will vary from person to person.
Like in the above case, a person who is related to the neighbour will owe a greater duty of care, i.e., the standard is stricter, than a person who is not related to the neighbour.
However, generally speaking, the standard of care:
Will be one of that can be expected from a reasonable man. Indira, despite having a higher responsibility of saving her son, will be exempt from liability if there was no way to help the child – because that would be unreasonable.
Will vary with the increase in the magnitude of risk, i.e., standard is stricter with greater risk, and lighter with lower risk.
Type of the service which is offered/expertise of the defendant – a 5-star hotel has more responsibility than a road-side shack; the qualified doctor has more responsibility than your neighbourhood "medical expert".
Once established that there is a person who can be reasonably affected, i.e., neighbour, there are three pointers, in sequential order, that needs to be checked for:
The legal duty to exercise care towards that neighbour.
Failure to exercise that care (breach of the duty).
Damage arising out of that breach.
Once the third occurs, you have a case of negligence. Very simple (now, after a full thousand words, you say?).
The other pointers to remember are:
The harm must be foreseeable – there should be proximity between the harm suffered and the neighbour.
Generally, the standard of care is one that is exercised by a reasonable man. However, it varies with the circumstances such as the existing relation between the persons involved.
Following from the above, there must be a scope to exercise that duty of care, failing which there is no liability on the defendant – if a person is not afforded a chance to be responsible, then he cannot be labelled irresponsible, right?
1 The first thing you will be told in Law school is not to rely on Wikipedia, or any e-resource which could quite literally be written by a bot; and we all follow it to the 't'.
BTW, this numbering is called footnoting; it usually comes at the bottom of the page/at the end of the article (in projects and other scholarly works) and you do it when you have to make a reference to the source from which you have taken a piece of text from in order to avoid plagiarisms charges (copying without acknowledgement), and also to add further comments.
2 Not that simple, actually. Read on.