Anonymous
I write this article for all those getting set to give the CLAT, a test that would 'define' their entire lives.
I write at a time of great tension and excitement for all concerned.
You are getting ready to give your entrance exams, the fourth years in law schools all over the country are getting ready to give interviews and get jobs and everyone else is interning hoping to learn something or to get a job.
Law College isn't like any other educational institution. We do things very differently as compared to most colleges.
Let me explain this, Law school is not a place where you learn something new or something you have never known before. You learn something that has always been there and will always be there.
You learn the true basis of human society, the true rationale behind everything we do. You learn the law, you learn those basic principles that have defined human civilization ever since its inception.
You learn about the Constitution and why it's the greatest document still being written and why it will forever hold that status. You learn to truly respect this country for the freedom it gives you, that power to do what you want, how you want and to truly embrace your individuality, to truly reach your potential as a human being.
There is a certain nobility in this profession, in the study of law, because it finally puts into words morality, justice and equality – terms that you use without actually realizing the true depth of their meaning.
The study of law provides you with the necessary skill-set to understand this depth for yourself and to understand the human society in all its parts and forms and in that sense you learn something truly wonderful, something that has always been there in the fabric of society but never really apparent or obvious.
These are just some qualities of law-school that set it apart from any other institution and sets the study of law apart from any other profession.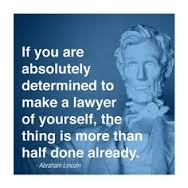 Apart from its ideological distinction, practically also, law school life is distinctive.
Nowhere else will you see such a diverse range of students, nowhere else will you find such a wide collection of extra-curricular and co-curricular activities to participate in – moots, debates, publications, presentations, credit courses, special guest lectures, parties, girls/boys and, of course, the omnipresent term- GPA.
Most of you will manage, some will even enjoy this pressure and this choice of multifarious activities, some will simply exist through it and some will, unfortunately, fall away.
It's a pattern that happens every year with every batch.  It's as predictable as the sun rising tomorrow. But there are some, and it is to those visionaries that this article is dedicated.
These few, and I cannot overstate how few, will forge their own way away from Amarchands and Luthras (google if you do not know what these are), the most characteristic of all national law school hopes, and will endeavor to become their own person, their own master, their own employer.
It is these few people who change the legal industry every year. These people are those litigators and those startup entrepreneurs. Only they understand the true meaning of independence, the true force behind doing your own thing and being your own master.
They will never allow themselves to sacrifice their independence, their freedom on the altar of financial stability and this is the ideal that all of you should aim for.
In pursuance of this aim, I propose that you relax, weigh your options and never surrender yourself to the will of others.
It is not necessary that you moot, it is not necessary that you debate and it is not necessary that you publish or even that you get that perfect GPA.
All that is necessary is that you remain pro-active enough, motivated enough to attempt your hand at everything and find your own way through to your own goals and not the ones that others set for you.
The most important thing that you must remember is focus and motivation. You need to understand what is best for you and not for your best friend.
You need to know what motivates you, what excites, that one thing or that one activity that gives you such extreme pleasure that you lose yourself in it. Find what that is, and you're set. However, you will need to obviously put yourself out there to find out what your thing is, so try everything, experience it all. Nothing is above you and nothing below.
So, to all of you future law students, I say good luck and that I envy you for having so much time to decide your future, to have so many endless possibilities, so many avenues. I hope your enjoy your ride as I have enjoyed mine till date and that you realize that fun is in doing what you love.
So go ahead, get excited, study your hardest for this extremely easy test. An awesome world awaits you at the end of this struggle, truly a pot of gold at the end of the rainbow. For the amazing journey from taking coaching classes to enjoying your success in getting into your dream law school, have faith in Clatapult. Clatapult's coaching classes are famous in all parts of India. Whether it's the clat coaching center in Kolkata or Amravati, the sincerity of preparing the students is just the same. This is the only reason that makes this coaching class different from the crowd.